Pachamama is among the most esteemed crafters of premium CBD products. Their award-winning tinctures are among the most powerful and prevalent within the industry today. Their exceptional collection of oral CBD tinctures begins with only the choices selection of natural hemp plants, which are born, raised, and cultivated within the state of Colorado.
Free of any pesticides, insecticides, or heavy metals, the raw hemp plants are harvested and transported to their advanced, food-grade CDPHE certified facility once it is ready for refinement. This is where the real magic begins, as Pachamama very slowly extract the multitude of beneficial cannabinoids to use within their first-rate products. The acquired full-spectrum CBD is exceedingly pure and wholly chemical-free.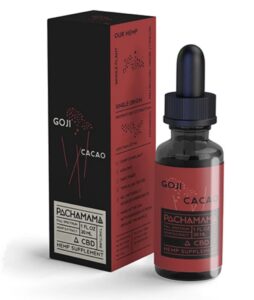 Goji Cacao CBD Tincture by Pachamama is one of their most sought-after, powerful, and delicious offerings. This aromatic and appetizing blend contains a staggering 11 essential amino acids, as well as a fantastically elevated beta-carotene composition, which is derived from the fresh goji berries. The therapeutic cacao adds advantages support, while simultaneously enhancing the rich flavor of the Goji + Cacao CBD Tincture. This sensational concoction is the perfect way to conveniently reap the many benefits of full-spectrum CBD and can be enjoyed on its own as an oral drop or blended into your favorite beverage.
Click into their world here at – https://enjoypachamama.com/