During the month of July one can attend a plethora of pre and post events the media, bloggers, sports athletes and cool people can indulge in for a week leading up to the big ESPY AWARD day.
The Life Feels Good news team discovered a really cool CANNASPA Gifting Lounge perfect for those who love CBD, Cannabis and hemp. A great day of exploring new brands, spa massage pampering, meeting new people, checking out various wellness and food products infused with CBD. Today you can create some really cool products from the Cannabis plant.
Do know that cannabis has long been used for hemp fibre, hemp seeds and their oils, hemp leaves for use as vegetables and as juice and medicinal purposes. A few brands from this event you may want to learn more about are as follows:
Chef Matt Cooks
Chef Matt, a cool chef who cools with CBD and the cannabis plants
https://www.chefmattcooks.com/
Hakuna Supply CBD
Pineapple Express CBD Foot Soak
Link in here at https://pineappleexpresswellness.com/product/cbd-bath-soak/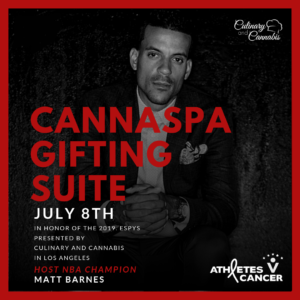 We give DIVINE-LOVE to the producer Tamara Anderson and Matt Barnes for educating people on CBD, Cannabis and Hemp that are about healing and educating people.