CBD creams are a wonderful addition to any skincare routine. Creams and lotions containing CBD are an excellent way to get the beneficial effects of this powerful compound directly to your skin.
CBDistillery CBDol Topical CBD Salve is packed with 500mg of CBD per container, this cream is free of pesticides, and won't leave you with a sticky or tacky feeling once applied.
CBD salves also bring relief and comfort directly to any affected areas. Salves are a fast way to get relief right on the spot without having to wait for an edible, pill, or tincture to travel through your system first.
CBDistillery was founded in 2015 by two Colorado natives with a background in cannabis. The company was created after identifying a growing consumer curiosity for the cannabis compound, CBD (cannabidiol) and a lack of access at affordable prices. Thus CBDistillery, the legacy brand of Balanced Health Botanicals (BHB), was born with the mission to bring the highest quality, fairly priced CBD to the masses. CBDistillery is now one of the nations' largest and fastest growing retailers of hemp-derived CBD products in the world, reporting $41.3 million for 2018 (450% growth YoY).
Today, BHB owns and operated some of the largest manufacturing operations and brands, including CBDistillery, in the hemp-derived CBD market. Through vertical integration, BHB is uniquely positioned to control the entire process from seed-to-sale. BHB is known for its high-quality consumer-focused products and best-in-class manufacturing processes.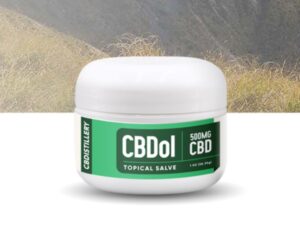 buy here – https://www.thecbdistillery.com/product/500mg-cbd-salve-topical-cbdol/